** The March of Science **
Many scientists who have delved deeply into the divine wisdom cannot help but experience a religious feeling. Here are some quotes.
"This most beautiful system of the sun, planets and comets, could only proceed from the counsel and dominion of an intelligent and powerful Being" –
Sir Isaac Newton - "General Scholium", in Mathematical Principles of Natural Philosophy
---
"Every one who is seriously involved in the pursuit of science becomes convinced that a spirit is manifest in the laws of the Universe – a spirit vastly superior to that of man, and one in the face of which we with our modest powers must feel humble." –
Albert Einstein
---
"The scientist's religious feeling takes the form of a rapturous amazement at the harmony of natural law, which reveals an intelligence of such superiority that, compared with it, all the systematic thinking and acting of human beings is utterly insignificant reflection" –
Albert Einstein
---
"The human mind is not capable of grasping the Universe. We are like a little child entering a huge library. The walls are covered to the ceilings with books in many different tongues. The child knows that someone must have written these books. It does not know who or how. It does not understand the languages in which they are written. But the child notes a definite plan in the arrangement of the books - a mysterious order which it does not comprehend, but only dimly suspects." –
Albert Einstein
---
"As a man who has devoted his whole life to the most clear headed science, to the study of matter, I can tell you as a result of my research about atoms this much: There is no matter as such. All matter originates and exists only by virtue of a force which brings the particle of an atom to vibration and holds this most minute solar system of the atom together. We must assume behind this force the existence of a conscious and intelligent mind. This mind is the matrix of all matter". –
Max Planck - key founder of quantum mechanics
---
"Would you not say to yourself, 'Some super-calculating intellect must have designed the properties of the carbon atom, otherwise the chance of my finding such an atom through the blind forces of nature would be utterly minuscule. A common sense interpretation of the facts suggests that a superintellect has monkeyed with physics, as well as with chemistry and biology, and that there are no blind forces worth speaking about in nature. The numbers one calculates from the facts seem to me so overwhelming as to put this conclusion almost beyond question.'" –
Fred Hoyle - Astrophysicist
---
"The really amazing thing is not that life on Earth is balanced on a knife-edge, but that the entire universe is balanced on a knife-edge, and would be total chaos if any of the natural 'constants' were off even slightly. You see," Davies adds, "even if you dismiss man as a chance happening, the fact remains that the universe seems unreasonably suited to the existence of life-almost contrived-you might say a 'put-up job'." –
Paul Davies - Professor of Theoretical Physics
---
"A scientific discovery is also a religious discovery. There is no conflict between science and religion. Our knowledge of G-d is made larger with every discovery we make about the world" –
Joseph H. Taylor, Jr. Nobel Prize in Physics
---
"It may seem bizarre, but in my opinion science offers a surer path to G-d than religion. People take it for granted that the physical world is both ordered and intelligible. The underlying order in nature-the laws of physics-are simply accepted as given, as brute facts. Nobody asks where they came from; at least they do not do so in polite company. However, even the most atheistic scientist accepts as an act of faith that the universe is not absurd, that there is a rational basis to physical existence manifested as law-like order in nature that is at least partly comprehensible to us. So science can proceed only if the scientist adopts an essentially theological worldview." –
Physicist Paul Davies
---
"I think that the most impressive arguments for G-d's existence are those that are supported by recent scientific discoveries. I've never been much impressed by the Kalam cosmological argument, and I don't think it has gotten any stronger recently. However, I think the argument to Intelligent Design is enormously stronger than it was when I first met it... Absolutely. It seems to me that Richard Dawkins constantly overlooks the fact that the findings of more than fifty years of DNA research have provided materials for a new and enormously powerful argument to design." –
Anthony Flew - Oxford professor, and leading champion of atheism for more than fifty years who renounced atheism in 2004
---
"As we look out into the universe and identify the many accidents of physics and astronomy that have worked together to our benefit, it almost seems as if the universe must in some sense have known that we were coming." –
Physicist Freeman Dyson
---
"Astronomers who do not draw theistic or deistic conclusions are becoming rare, and even the few dissenters hint that the tide is against them." –
Astrophysicist Hugh Ross
---
"Astronomers now find they have painted themselves into a corner because they have proven, by their own methods, that the world began abruptly in an act of creation to which you can trace the seeds of every star, every planet, every living thing in this cosmos and on the earth. And they have found that all this happened as a product of forces they cannot hope to discover.... That there are what I or anyone would call supernatural forces at work is now, I think, a scientifically proven fact." –
Robert Jastrow, Astronomer, physicist and founder of NASA's Goddard Institute of Space Studies
---
"As we survey all the evidence, the thought insistently arises that some supernatural agency-or, rather, Agency-must be involved. Is it possible that suddenly, without intending to, we have stumbled upon scientific proof of the existence of a Supreme Being? Was it G-d who stepped in and so providentially crafted the cosmos for our benefit?" –
George Greenstein - The Symbiotic, Universe: Life and Mind in the Cosmos pg.26-27
---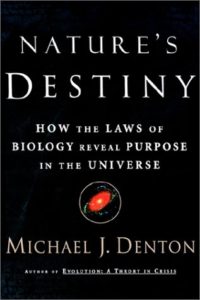 "As far as where science is going in the future, I think that it's going to be increasingly obvious as the scientific revelation rolls on that you cannot account for life in the universe without proposing that there's some intelligent order behind it. And I think this is going to grow more obvious with each year as biological science advances. Already biological systems are, as currently understood, complex almost beyond conception - think of the millions of neuronal path finding cells navigating through the ever changing biochemical matrix of the developing brain and laying down the circuitry of the nervous system, or the zoo of regulatory micro RNAs regulating gene expression, or the complex, ever-changing 3D topologies of the genome during development.
Or consider the fine-tuning of nature to have living things here in the universe and thriving on a planet like the earth. In this area the criteria are becoming more and more stringent as knowledge advances necessitating an ever-greater degree of fine-tuning of nature's laws toward the end of life. I also see this ongoing revelation as one of the great purposes of science in human history. So if you ask me where science is going in the future I think it's essentially going to be drawn towards some form of intelligent design to account for the world we see around us. And I think that's perhaps the destiny of science, and this was perhaps its destiny from its inception. It's perhaps a somewhat extreme or radical view of the scientific adventure but I think that's what it's about." –
Michael Denton (Geneticist, in an interview
[
1
])
---
>> Next:
Afterword
Footnotes